At Eternity's Gate
PG-13
for some thematic content


Willem Dafoe, Rupert Friend

-

1 hr. 51 mins.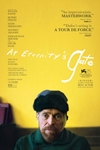 Academy AwardŽ Nominee Julian Schnabel's At Eternity's Gate is a journey inside the world and mind of a person who, despite skepticism, ridicule and illness, created some of the world's most beloved and stunning works of art. This is not a forensic biography, but rather scenes based on Vincent van Gogh's (Academy AwardŽ Nominee Willem Dafoe) letters, common agreement about events in his life that present as facts, hearsay, and moments that are just plain invented.
Official Site
Trailer
---
Green Book
PG-13
for thematic content, language including racial epithets, smoking, some violence and suggestive material


Viggo Mortensen, Mahershala Ali

-

2 hr. 10 mins.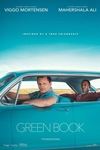 When Tony Lip (Mortensen), a bouncer from an Italian-American neighborhood in the Bronx, is hired to drive Dr. Don Shirley (Ali), a world-class Black pianist, on a concert tour from Manhattan to the Deep South, they must rely on "The Green Book" to guide them to the few establishments that were then safe for African-Americans. Confronted with racism, danger-as well as unexpected humanity and humor-they are forced to set aside differences to survive and thrive on the journey of a lifetime.
Official Site
Trailer
---
Bohemian Rhapsody
PG-13
for thematic elements,suggestive material, drug content and language


Rami Malek, Allen Leech

-

2 hr. 15 mins.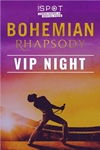 Bohemian Rhapsody is a foot-stomping celebration of Queen, their music and their extraordinary lead singer Freddie Mercury, who defied stereotypes and shattered convention to become one of the most beloved entertainers on the planet. The film traces the meteoric rise of the band through their iconic songs and revolutionary sound, their near-implosion as Mercury's lifestyle spirals out of control, and their triumphant reunion on the eve of Live Aid, where Mercury, facing a life-threatening illness, leads the band in one of the greatest performances in the history of rock music. In the process, cementing the legacy of a band that were always more like a family, and who continue to inspire outsiders, dreamers and music lovers to this day.
Official Site
Trailer
---
Boy Erased
R
for sexual content including an assault, some language and brief drug use


Lucas Hedges, Nicole Kidman

-

1 hr. 54 mins.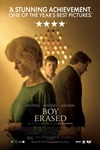 Boy Erased tells the story of Jared (Hedges), the son of a Baptist pastor in a small American town, who is outed to his parents (Kidman and Crowe) at age 19. Jared is faced with an ultimatum: attend a gay conversion therapy program - or be permanently exiled and shunned by his family, friends, and faith. Boy Erased is the true story of one young man's struggle to find himself while being forced to question every aspect of his identity.
Official Site
Trailer
---