Fifty Shades Darker
R
for strong erotic sexual content, some graphic nudity, and language.


Dakota Johnson, Jamie Dornan

-

1 hr. 55 mins.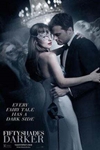 When a wounded Christian Grey tries to entice a cautious Ana Steele back into his life, she demands a new arrangement before she will give him another chance. As the two begin to build trust and find stability, shadowy figures from Christian's past start to circle the couple, determined to destroy their hopes for a future together.
Official Site
Trailer
---
Toni Erdmann
R
for strong sexual conetnt, graphic nudity, language and brief drug use


Peter Simonischek, Sandra Hüller

-

2 hr. 42 mins.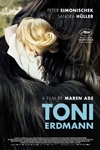 Winfried doesn't see much of his working daughter Ines. The suddenly student-less music teacher decides to surprise her with a visit after the death of his old dog. It's an awkward move because serious career woman Ines is working on an important project as a corporate strategist in Bucharest. The geographical change doesn't help the two to see more eye to eye. Practical joker Winfried loves to annoy his daughter with corny pranks. What's worse are his little jabs at her routine lifestyle of long meetings, hotel bars and performance reports. Father and daughter reach an impasse, and Winfried agrees to return home to Germany. Enter flashy "Toni Erdmann" - Winfried's smooth-talking alter ego. Disguised in a tacky suit, weird wig and even weirder fake teeth, Toni barges into Ines' professional life, claiming to be her CEO's life coach. As Toni, Winfried is bolder and doesn't hold back, but Ines meets the challenge. The harder they push, the closer they become. In all the madness, Ines begins to understand that her eccentric father might deserve some place in her life after all.
Official Site
Trailer
---
La La Land
PG-13
for some language


Emma Stone, Ryan Gosling

-

2 hr. 8 mins.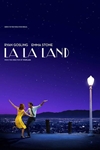 The story of Mia, an aspiring actress, and Sebastian, a dedicated jazz musician, struggling to make ends meet while pursuing their dreams in a city known for destroying hopes and breaking hearts. With modern day Los Angeles as the backdrop, this musical about everyday life explores what is more important: a once-in-a-lifetime love or the spotlight.
Official Site
Trailer
---
Lion
PG-13
for thematic material and some sensuality


Dev Patel, Rooney Mara

-

2 hr. 0 mins.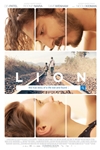 Five year old Saroo gets lost on a train which takes him thousands of miles across India, away from home and family. Saroo must learn to survive alone in Kolkata, before ultimately being adopted by an Australian couple. Twenty five years later, armed with only a handful of memories, his unwavering determination, and a revolutionary technology known as Google Earth, he sets out to find his lost family and finally return to his first home.
Official Site
Trailer
---