7 Days In Entebbe
PG-13
for violence, some thematic material, drug use, smoking and brief strong language


Rosamund Pike, Daniel Brühl

-

1 hr. 46 mins.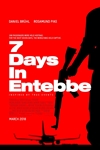 A gripping thriller inspired by the true events of the 1976 hijacking of an Air France flight en route from Tel Aviv to Paris, the film depicts the most daring rescue mission ever attempted.
Official Site
Trailer
---
The Leisure Seeker
R
for some sexual material


Helen Mirren, Donald Sutherland

-

1 hr. 42 mins.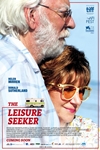 "The Leisure Seeker" is the story of a runaway couple going on an unforgettable cross-country journey in their vintage camper. Ella and John are fleeing the suffocating care of their doctors and grown children. He is distracted but strong; she is frail but sharp. Their journey aboard the faithful old camper they call The Leisure Seeker takes them from Boston to Key West. Sharing moments of exhilaration and anguish, they recapture their passion for life and their love for one another on a road trip that provides revelation and surprise right up to the very end.
Official Site
Trailer
---
Oh Lucy!



Shinobu Terajima, Josh Hartnett

-

1 hr. 35 mins.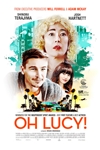 Setsuko is a single, emotionally unfulfilled woman, seemingly stuck with a drab, meaningless life in Tokyo. At least until she's convinced by her niece, Mika to enroll in an unorthodox English class that requires her to wear a blonde wig and take on an American alter ego named "Lucy." This new identity awakens something dormant in Setsuko, and she quickly develops romantic feelings for her American instructor, John (Josh Hartnett). When John suddenly disappears from class and Setsuko learns that he and her niece were secretly dating, Setsuko enlists the help of her sister, Ayako and the pair fly halfway across the world to the outskirts of Southern California in search of the runaway couple. In a brave new world of tattoo parlors and seedy motels, family ties and past lives are tested as Setsuko struggles to preserve the dream and promise of "Lucy."
Official Site
Trailer
---
Red Sparrow
R
for strong violence, torture, sexual content, language and some graphic nudity


Jennifer Lawrence, Joel Edgerton

-

2 hr. 20 mins.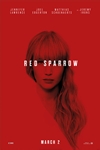 Dominika Egorova is many things. A devoted daughter determined to protect her mother at all costs. A prima ballerina whose ferocity has pushed her body and mind to the absolute limit. A master of seductive and manipulative combat. When she suffers a career-ending injury, Dominika and her mother are facing a bleak and uncertain future. That is why she finds herself manipulated into becoming the newest recruit for Sparrow School, a secret intelligence service that trains exceptional young people like her to use their bodies and minds as weapons. After enduring the perverse and sadistic training process, she emerges as the most dangerous Sparrow the program has ever produced. Dominika must now reconcile the person she was with the power she now commands, with her own life and everyone she cares about at risk, including an American CIA agent who tries to convince her he is the only person she can trust.
Official Site
Trailer
---
Loveless (Nelyubov)
R
for strong sexuality, graphic nudity, language and a brief disturbing image


Maryana Spivak, Aleksey Rozin

-

2 hr. 7 mins.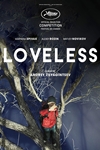 In LOVELESS, Zhenya and Boris are going through a vicious divorce marked by resentment, frustration and recriminations. Already embarking on new lives, each with a new partner, they are impatient to start again, to turn the page - even if it means threatening to abandon their 12-year-old son Alyosha. Until, after witnessing one of their fights, Alyosha disappears.
Official Site
Trailer
---