Greta



Chloë Grace Moretz, Maika Monroe

-

1 hr. 38 mins.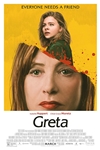 A sweet, naïve young woman trying to make it on her own in New York City, Frances (Chloë Grace Moretz) doesn't think twice about returning the handbag she finds on the subway to its rightful owner. That owner is Greta (Isabelle Huppert), an eccentric French piano teacher with a love for classical music and an aching loneliness. Having recently lost her mother, Frances quickly grows closer to widowed Greta. The two become fast friends - but Greta's maternal charms begin to dissolve and grow increasingly disturbing as Frances discovers that nothing in Greta's life is what it seems in this suspense thriller from Academy Award®-winning director Neil Jordan.
Official Site
Trailer
---
Ruben Brandt, Collector (Ruben Brandt, a gyujto)
R
for nude images and some violence


Kamarás Iván, Makranczi Zalán

-

1 hr. 36 mins.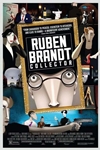 Ruben Brandt, a famous psychotherapist, is forced to steal 13 paintings from the world's renowned museums and private collections to prevent his suffering from terrible nightmares he has as a result of subliminal messaging he received as a child. Accompanied by his four patients, he and his band of thieves strike regularly and with great success: the Louvre, Tate, Uffizi, Hermitage, the Museum of Modern Art..."The Collector" quickly becomes the most wanted criminal in the world. Gangsters and headhunters chase him around the world while the reward for his capture keeps rising, approaching a hundred million dollars. A cartel of insurance companies entrusts Mike Kowalski, a private detective and leading expert on art theft, to solve the "Collector Case."
Official Site
Trailer
---
Everybody Knows (Todos lo saben)
R
for some language


Penélope Cruz, Javier Bardem

-

2 hr. 10 mins.
EVERYBODY KNOWS (TODOS LO SABEN) follows Laura (Cruz) on her travels from Argentina to her small home town in Spain for her sister's wedding, bringing her two children along for the occasion. Amid the joyful reunion and festivities, the eldest daughter is abducted. In the tense days that follow, various family and community tensions surface and deeply hidden secrets are revealed.
Official Site
Trailer
---
Embrace of The Serpent (El abrazo de la serpiente)
NR



Nilbio Torres, Antonio Bolívar

-

2 hr. 5 mins.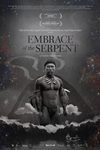 Embrace of the Serpent features the encounter, apparent betrayal and finally life-affirming friendship between an Amazonian shaman (the last survivor of his people) and two foreign scientists.
Official Site
Trailer
---
To Dust
R
for language and some disturbing images


Géza Röhrig, Sammy Voit

-

1 hr. 32 mins.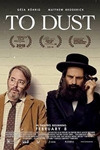 This feature film debut from Snyder is tells the tale of Shmuel, a Hasidic cantor in Upstate New York, who is distraught by the untimely death of his wife, Rivkah. As he struggles to find solace in his religion, which proffers a stringent timeline for grief, Shmuel grows increasingly haunted by visions of Rivkah's decomposing corpse. Convinced that her soul will suffer until her body returns to dust, Shmuel decides that to stop his feverish spiral he must seek an understanding of the physical processes of her decay.
Official Site
Trailer
---
Gloria Bell
R
for sexuality, nudity, language and some drug use


Julianne Moore, John Turturro

-

1 hr. 42 mins.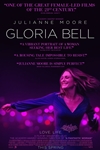 Gloria (Julianne Moore) is a free-spirited divorcée who spends her days at a straight-laced office job and her nights on the dance floor, joyfully letting loose at clubs around Los Angeles. After meeting Arnold (John Turturro) on a night out, she finds herself thrust into an unexpected new romance, filled with both the joys of budding love and the complications of dating, identity and family.
Official Site
Trailer
---
The Wedding Guest
R
for language, some violence and brief nudity


Dev Patel, Radhika Apte

-

1 hr. 34 mins.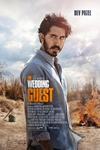 This propulsive, globetrotting thriller from acclaimed director Michael Winterbottom is a breathless tour through the shadowy underworlds and hidden realms of Pakistan and India. Jay is a man with a secret who travels from Britain to Pakistan to attend a wedding - armed with duct tape, a shotgun, and a plan to kidnap the bride-to-be. Despite his cool efficiency, the plot quickly spirals out of control, sending Jay and his hostage on the run across the border and through the railway stations, back alleys, and black markets of New Delhi - as all the while attractions simmer, loyalties shift, and explosive secrets are revealed. Pulsating with the sights and sounds of the Indian subcontinent, The Wedding Guest conjures a colorful world where danger lurks at every turn and nothing is as it seems.
Official Site
Trailer
---
The Beach Bum
R
for pervasive drug and alcohol use, language throughout, nudity and some strong sexual content


Matthew McConaughey, Isla Fisher

-

1 hr. 35 mins.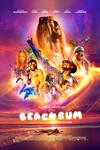 THE BEACH BUM follows the hilarious misadventures of Moondog (Matthew McConaughey), a rebellious rogue who always lives life by his own rules. Co-starring Snoop Dog, Zac Efron, and Isla Fisher, THE BEACH BUM is a refreshingly original and subversive new comedy from director Harmony Korine (KIDS, SPRING BREAKERS).
Official Site
Trailer
---
The Hummingbird Project
R
for language throughout


Jesse Eisenberg, Alexander Skarsgård

-

1 hr. 51 mins.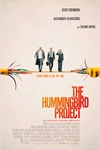 Two cousins from New York are players in the high-stakes game of High Frequency Trading, where winning is measured in milliseconds. Their dream? To build a fiber-optic cable straight line between Kansas and New Jersey, making them millions.
Official Site
Trailer
---