An Acceptable Loss
R
for language and brief sexuality


Tika Sumpter, Jamie Lee Curtis

-

1 hr. 42 mins.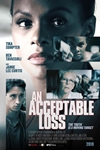 She was the ultimate patriot. Now, what she knows could bring down the government. Libby Lamm (Tika Sumpter) is a former top national security advisor who, while working with Rachel Burke (Jamie Lee Curtis), a ruthless, steely-willed political veteran, signed off on a controversial military action that was supposed to end the war on terror. The problem: thousands died under false pretenses. Haunted by what she knows, Libby sets out to tell the truth, risking treason - and her own life - to expose a cover-up that stretches all the way to the highest levels of government. This gripping saga of lies, conspiracy, and betrayal is an explosive look at what it takes to do the right thing - even if that means going up against your own country.
Official Site
Trailer
---
Capernaum (Capharnaüm)
R
for language and some drug material


Zain Alrafeea, Yordanos Shifera

-

2 hr. 30 mins.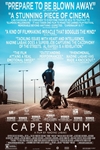 Winner of the Grand Jury Prize at the Cannes Film Festival, Nadine Labaki's CAPERNAUM ("Chaos") tells the story of Zain (Zain Al Rafeea), a Lebanese boy who sues his parents for the "crime" of giving him life. CAPERNAUM follows Zain, a gutsy streetwise child as he flees his negligent parents, survives through his wits on the streets, takes care of Ethiopian refugee Rahil (Yordanos Shiferaw) and her baby son, Yonas (Boluwatife Treasure Bankole), being jailed for a crime, and finally, seeks justice in a courtroom. CAPERNAUM was made with a cast of non-professionals playing characters whose lives closely parallel their own. Following her script, Labaki placed her performers in scenes and asked them to react spontaneously with their own words and gestures. When the non-actors's instincts diverged from the written script, Labaki adapted the screenplay to follow them. While steeped in the quiet routines of ordinary people, CAPERNAUM is a film with an expansive palette: without warning it can ignite with emotional intensity, surprise with unexpected tenderness, and inspire with flashes of poetic imagery. Although it is set in the depths of a society's systematic inhumanity, CAPERNAUM is ultimately a hopeful film that stirs the heart as deeply as it cries out for action.
Official Site
Trailer
---
Destroyer
R
for language throughout, violence, some sexual content and brief drug use


Nicole Kidman, Sebastian Stan

-

2 hr. 3 mins.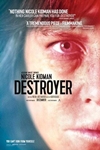 Destroyer follows the moral and existential odyssey of LAPD detective Erin Bell who, as a young cop, was placed undercover with a gang in the California desert with tragic results. When the leader of that gang re-emerges many years later, she must work her way back through the remaining members and into her own history with them to finally reckon with the demons that destroyed her past.
Official Site
Trailer
---
Everybody Knows (Todos lo saben)
R
for some language


Penélope Cruz, Javier Bardem

-

2 hr. 10 mins.
EVERYBODY KNOWS (TODOS LO SABEN) follows Laura (Cruz) on her travels from Argentina to her small home town in Spain for her sister's wedding, bringing her two children along for the occasion. Amid the joyful reunion and festivities, the eldest daughter is abducted. In the tense days that follow, various family and community tensions surface and deeply hidden secrets are revealed.
Official Site
Trailer
---
Never Look Away (Werk ohne Autor)
R
for graphic nudity, sexuality and brief violent images


Tom Schilling, Sebastian Koch

-

3 hr. 8 mins.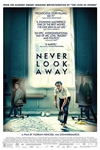 Inspired by real events and spanning three eras of German history, NEVER LOOK AWAY tells the story of a young art student, Kurt (Tom Schilling) who falls in love with fellow student, Ellie (Paula Beer). Ellie's father, Professor Seeband (Sebastian Koch), a famous doctor, is dismayed at his daughter's choice of boyfriend, and vows to destroy the relationship. What neither of them knows is that their lives are already connected through a terrible crime Seeband committed decades ago.
Official Site
Trailer
---