Film Stars Don't Die in Liverpool
R
for language,some sexual content and brief nudity


Stephen Graham, Jamie Bell

-

1 hr. 45 mins.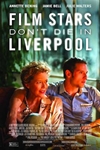 Based on Peter Turner's memoir, the film follows the playful but passionate relationship between Turner (Bell) and the eccentric Academy AwardŽ-winning actress Gloria Grahame (Bening) in 1978 Liverpool. What starts as a vibrant affair between a legendary femme fatale and her young lover quickly grows into a deeper relationship, with Turner being the person Gloria turns to for comfort. Their passion and lust for life is tested to the limits by events beyond their control.
Official Site
Trailer
---
Phantom Thread
R
for language


Daniel Day-Lewis, Lesley Manville

-

2 hr. 10 mins.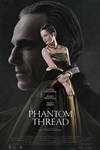 Set in the glamour of 1950's post-war London, renowned dressmaker Reynolds Woodcock (Daniel Day-Lewis) and his sister Cyril (Lesley Manville) are at the center of British fashion, dressing royalty, movie stars, heiresses, socialites, debutants and dames with the distinct style of The House of Woodcock. Women come and go through Woodcock's life, providing the confirmed bachelor with inspiration and companionship, until he comes across a young, strong-willed woman, Alma (Vicky Krieps), who soon becomes a fixture in his life as his muse and lover. Once controlled and planned, he finds his carefully tailored life disrupted by love. With his latest film, Paul Thomas Anderson paints an illuminating portrait both of an artist on a creative journey, and the women who keep his world running. "Phantom Thread" is Paul Thomas Anderson's eighth movie, and his second collaboration with Daniel Day-Lewis.
Official Site
Trailer
---
Humor Me



Jemaine Clement, Elliott Gould

-

1 hr. 33 mins.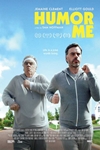 Humor Me is a heartfelt father-son comedy about a struggling playwright who is forced to move in with his joke-telling dad in a New Jersey retirement community and learns, as his father often says, "life's going to happen, whether you smile or not.
Official Site
Trailer
---
Winchester
PG-13
for violence, disturbing images, drug content, some sexual material and thematic elements


Helen Mirren, Jason Clarke

-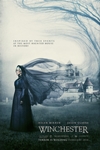 Inspired by true events. On an isolated stretch of land 50 miles outside of San Francisco sits the most haunted house in the world. Built by Sarah Winchester (Academy AwardŽ-winner Helen Mirren), heiress to the Winchester fortune, it is a house that knows no end. Constructed in an incessant twenty-four hour a day, seven day a week mania for decades, it stands seven stories tall and contains hundreds of rooms. To the outsider it looks like a monstrous monument to a disturbed woman's madness. But Sarah is not building for herself, for her niece (Sarah Snook) or for the brilliant Doctor Eric Price (Jason Clarke) whom she has summoned to the house. She is building a prison, an asylum for hundreds of vengeful ghosts, and the most terrifying among them have a score to settle with the Winchesters.
Official Site
Trailer
---
The 15:17 to Paris
PG-13
for bloody images, violence, some suggestive material, drug references and language


Anthony Sadler, Alek Skarlatos

-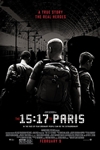 In the early evening of August 21, 2015, the world watched in stunned silence as the media reported a thwarted terrorist attack on Thalys train #9364 bound for Paris, an attempt prevented by three courageous young Americans traveling through Europe. The film follows the course of the friends' lives, from the struggles of childhood through finding their footing in life, to the series of unlikely events leading up to the attack. Throughout the harrowing ordeal, their friendship never wavers, making it their greatest weapon and allowing them to save the lives of the more than 500 passengers on board.
Official Site
Trailer
---
Fifty Shades Freed
R
for strong sexual content, nudity, and language


Dakota Johnson, Jamie Dornan

-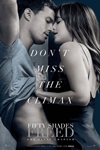 Christian and Anastasia have become a couple, but Christian's past is coming back to haunt Anastasia.
Official Site
Trailer
---
The Leisure Seeker
R
for some sexual material


Helen Mirren, Donald Sutherland

-

1 hr. 42 mins.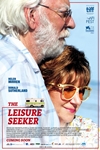 "The Leisure Seeker" is the story of a runaway couple going on an unforgettable cross-country journey in their vintage camper. Ella and John are fleeing the suffocating care of their doctors and grown children. He is distracted but strong; she is frail but sharp. Their journey aboard the faithful old camper they call The Leisure Seeker takes them from Boston to Key West. Sharing moments of exhilaration and anguish, they recapture their passion for life and their love for one another on a road trip that provides revelation and surprise right up to the very end.
Official Site
Trailer
---
A Fantastic Woman (Una mujer fantastica)
R
for language, sexual content, nudity and a disturbing assault.


Francisco Reyes, Luis Gnecco

-

1 hr. 44 mins.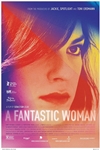 A FANTASTIC WOMAN is the story of Marina, a waitress and singer, and Orlando, an older man, who are in love and planning for the future. After Orlando suddenly falls ill and dies, Marina is forced to confront his family and society, and to fight again to show them who she is: complex, strong, forthright, fantastic.
Official Site
Trailer
---
Red Sparrow



Jenifer Lawrence, Joel Edgerton

-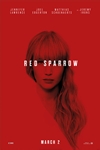 Dominika Egorova is many things.
A devoted daughter determined to protect her mother at all costs.
A prima ballerina whose ferocity has pushed her body and mind to the absolute limit.
A master of seductive and manipulative combat.
When she suffers a career-ending injury, Dominika and her mother are facing a bleak and uncertain future. That is why she finds herself manipulated into becoming the newest recruit for Sparrow School, a secret intelligence service that trains exceptional young people like her to use their bodies and minds as weapons. After enduring the perverse and sadistic training process, she emerges as the most dangerous Sparrow the program has ever produced. Dominika must now reconcile the person she was with the power she now commands, with her own life and everyone she cares about at risk, including an American CIA agent who tries to convince her he is the only person she can trust.
Official Site
Trailer
---
Thoroughbreds



Anya Taylor-Joy, Anton Yelchin

-

1 hr. 30 mins.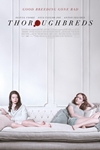 Childhood friends Lily and Amanda reconnect in suburban Connecticut after years of growing apart. Lily has turned into a polished, upper-class teenager, with a fancy boarding school on her transcript and a coveted internship on her resume; Amanda has developed a sharp wit and her own particular attitude, but all in the process of becoming a social outcast. Though they initially seem completely at odds, the pair bond over Lily's contempt for her oppressive stepfather, Mark, and as their friendship grows, they begin to bring out one another's most destructive tendencies. Their ambitions lead them to hire a local hustler, Tim, and take matters into their own hands to set their lives straight.
Official Site
Trailer
---